Suburbs including Toorak, Parkville and Mont Albert saw double-digit falls in asking rent, Domain's Rental Report for the September quarter shows.
Parkville, home to the historic mansions of leafy Royal Parade, suffered the biggest drop of 14.8 per cent over the year to $635 per week.
The millionaire neighbourhood of Toorak saw house rents fall by 13.6 per cent to $950. Even in Mont Albert, further east, rents dropped by 12.8 per cent to $598 per week.
Tom Newman, property manager with RT Edgar Toorak, said cheaper rental properties, including townhouses, were being advertised more frequently, while more expensive homes have been attracting tenants wanting to stay long-term.
The rising proportion of lower-priced ads could explain the price dip, he suggested.
"Those more expensive houses are not changing hands as frequently," Mr Newman said, adding that "it's a really strong market and it's always busy."
Darren McMullin, leasing and new business manager with Kay & Burton South Yarra said fewer houses in swanky suburbs such as Toorak and South Yarra were available to rent with rentals being tightly held.
Mr McMullin had a list of at least eight people looking to rent a home in the area in October.
Apartments had become very popular with many new apartment buildings attracting tenants, some who were getting cheaper rents thanks to international landlords. 
"In the big multi-developments where there's a lot of offshore buyers, they're pretty keen to get someone in [to rent] quickly," he said.
"What you thought might get you $650 per week is now getting $575 just to compete against others with a cheaper rate."

While rents in some of Melbourne's prestige neighbourhoods dropped, not all did. 
The popular holiday home suburb of Blairgowrie on the Mornington Peninsula saw house rents rise 18.3 per cent over the year to $485 per week. 
Likewise, Alphington's rents were up – for houses by 16.7 per cent to $700 per week and units by 11.4 per cent to $390 per week. It was one of the few suburbs to have double-digit rises in both markets.
Alex Mauro, business development manager with Woodards said Alphington had become increasingly popular for young couples, families or those who were renting a home while renovating their own.
"I think Alphington has always been popular. It's, sort of, the in-between suburb that is close to the city but still has the greenery you get further out," Mr Mauro said.
"It has city access, and has great schools, and there are trendy cafes in the area."

Ashlee Harrison started renting in Alphington with her husband two years ago and said it was the greener surrounds and the local cafes she loved.
"I really like the open space," Ms Harrison said. "I grew up on a farm near Swan Hill, so having the parkland is really nice."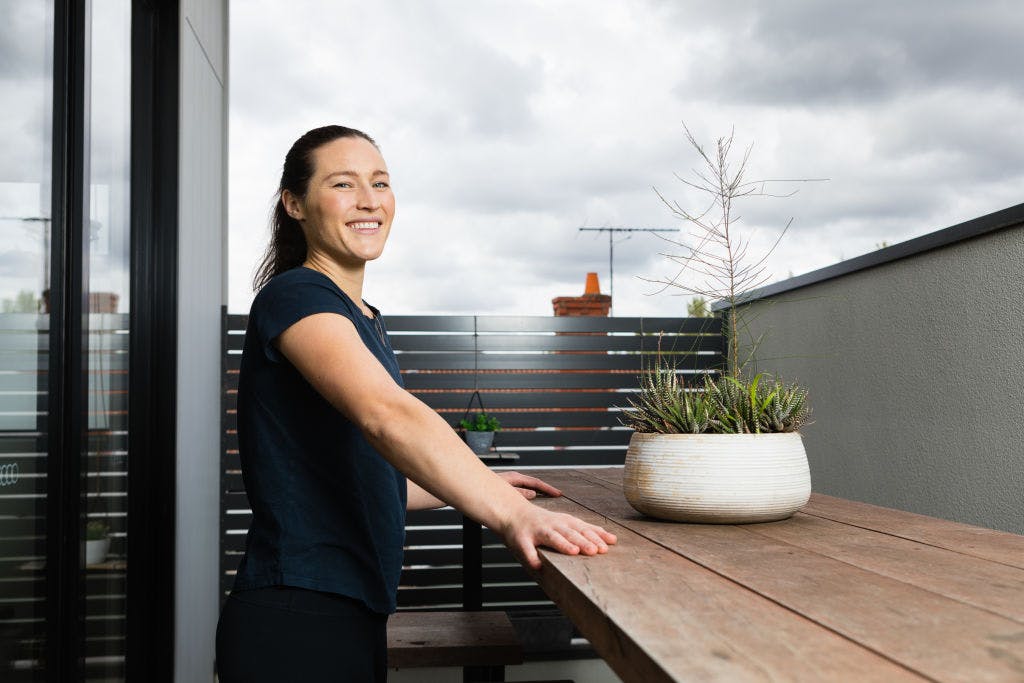 Ashlee Harrison has rented in Alphington for two years. Photo: Greg Briggs
Ms Harrison, who works in Northcote as a disability support worker, said she and her husband would look to buy a home, but knew they would have to move further away to be able to afford it.
For now, they're happy in their two-bedroom townhouse which is small, but still functional.
"It's enough for us – we have all the space we need," Ms Harrison said. 
Across Melbourne, house rents remained flat for the past 12 months at a median $430 per week. Unlike houses, unit rents rose by $10 to $420 a week, the report showed.
The report's results have been the opposite of what experts were expecting to see given Melbourne's recent boom in apartment builds. 
"We would have expected to see apartment rents flatten out due to the construction of multiple apartment buildings and for house rents to rise by more," Domain economist Trent Wiltshire said.
"It looks like the apartment construction boom is putting a lid on house rents too as people have the option of living in an apartment."