Glenvill has reported $42.5 million worth of sales, following the launch of their second townhouse precinct at YarraBend.
A development at one of Australia's largest infill projects by property group Glenvill has reported $42.5 million worth of sales, following the launch of their second townhouse precinct on Melbourne's northeastern edge.
The first release of 19, two and three bedroom townhouses in The Mills precinct sold out within three hours, achieving a 100 per cent clearance rate and $18.9 million worth of sales -- prompting Glenvill to fast-track two additional releases and $23.5 million worth of stock to meet demand.
The larger development, "YarraBend", occupies a 16.5 hectare parcel of land on a former paper mill site in Alphington. The riverside land was once completely owned by packaging company Amcor. Glenvill and Alpha Partners paid $120 million for the development rights in 2013.
Alpha Partners are responsible for the commercial, non-residential elements of the masterplan, including a retirement village, primary school and 2000sq m of retail. Construction is expected to begin in late 2018 for an early 2021 completion.
The 16-hectare site was approved as a "mini suburb" by Yarra Council in 2015.
[Related reading: YarraBend Breakdown: A Play-By-Play of the Alphington Paper Mill Development Site]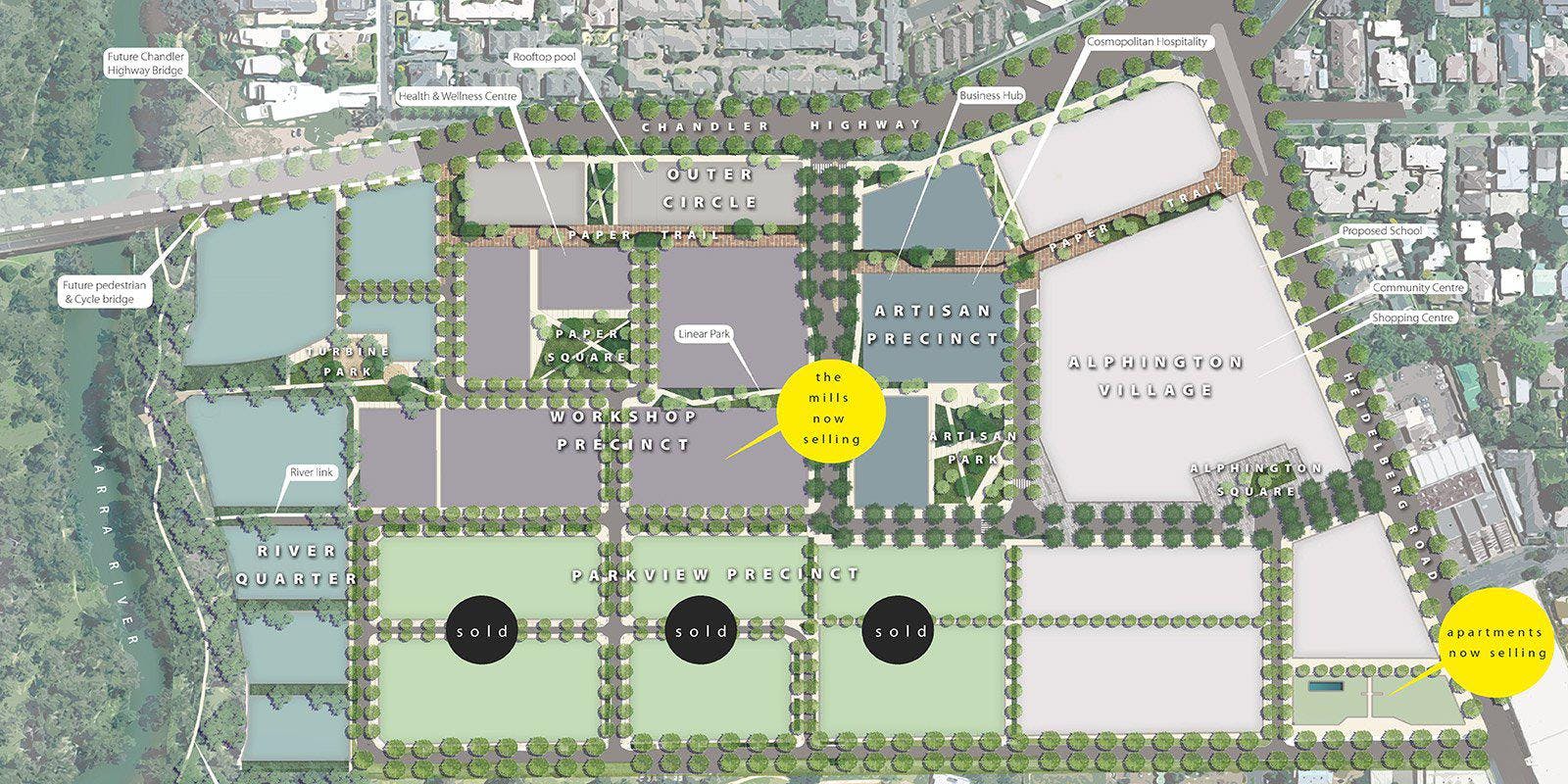 The YarraBend masterplan
Glenvill's development was given the "Tesla town" moniker when launched last year thanks to its commitment to sustainable initiatives -- the mix of apartments, townhouses and single family houses are each equipped with energy-efficient lighting and appliances, a solar roof, and a built-in Tesla Powerwall.
Residents in the masterplanned community are predicted to generate 80 per cent less waste, consume 43 per cent less water and will be able to charge their electric cars for free at on-site stations.
[Related reading: Alphington Proposed Site for New Mixed-Use Vertical Forest]Bramich said that townhouses offer a happy middle ground for much-needed medium density housing -- attracting owner-occupiers, first home buyers and downsizers. Investors, too, are attracted to a product which provides a good rental income and engages great quality tenants.
"The townhouse product is resonating with a lot of people at the moment."Chief executive of YarraBend and Glenvill, Len Warson, said that people are also buying into the "vision" of YarraBend.
"YarraBend offers a unique way of living. We have explored what people value and incorporated these insights into a considered design [founded] on six visionary pillars -- art and design, food and entertainment, health and wellness, sustainability, technology and knowledge," Warson said.
"Results to date show that our vision is something that clearly resonates with buyers and investors."
According to Glenvill, The Mill and Parkview buyers consisted mainly of local Melbourne residents and a combination of young families and downsizers. Architect DKO designed the townhouses.
The green "mini-suburb" will comprise approximately 2,000 dwellings. Construction on The Mills and Parkview start mid-2018.