Integrate your home into its garden for a beautiful, natural look, writes Johanna Leggatt
A home that is wonderfully enmeshed in the natural landscape — that appears to have sprung up organically from the block it sits on — will always spark joy and turn heads.
But if it looks like it has been simply plonked on its plot of land with little relationship to the surrounding environment and no natural vegetation, it's a turn-off — both for the people living there and the neighbours.
So, how do you ensure your new home successfully connects to the surrounding landscape?
According to Fortis Development Group development manager Avalon Nethery, it helps to look at nearby homes. "Ensuring a home suits the streetscape starts with the architecture and we often look locally for reference," Ms Nethery said.
The company's East Grove development, in Glen Iris, for example, features terracotta coloured panels on the facade that reflect the terracotta colours in the neighbourhood. You also have to ask whether the design will "stand the test of time".
"If the answer is yes, then a naturally established feel will easily be achieved," Ms Nethery said. Glenvill development/design manager CJ Koay said the right architectural style created a balance between innovation and respectful homage to what was already in the streetscape. "There is a fine line between creating a respectful sense of scale and all the homes looking the same," he said. "Our focus is on the former."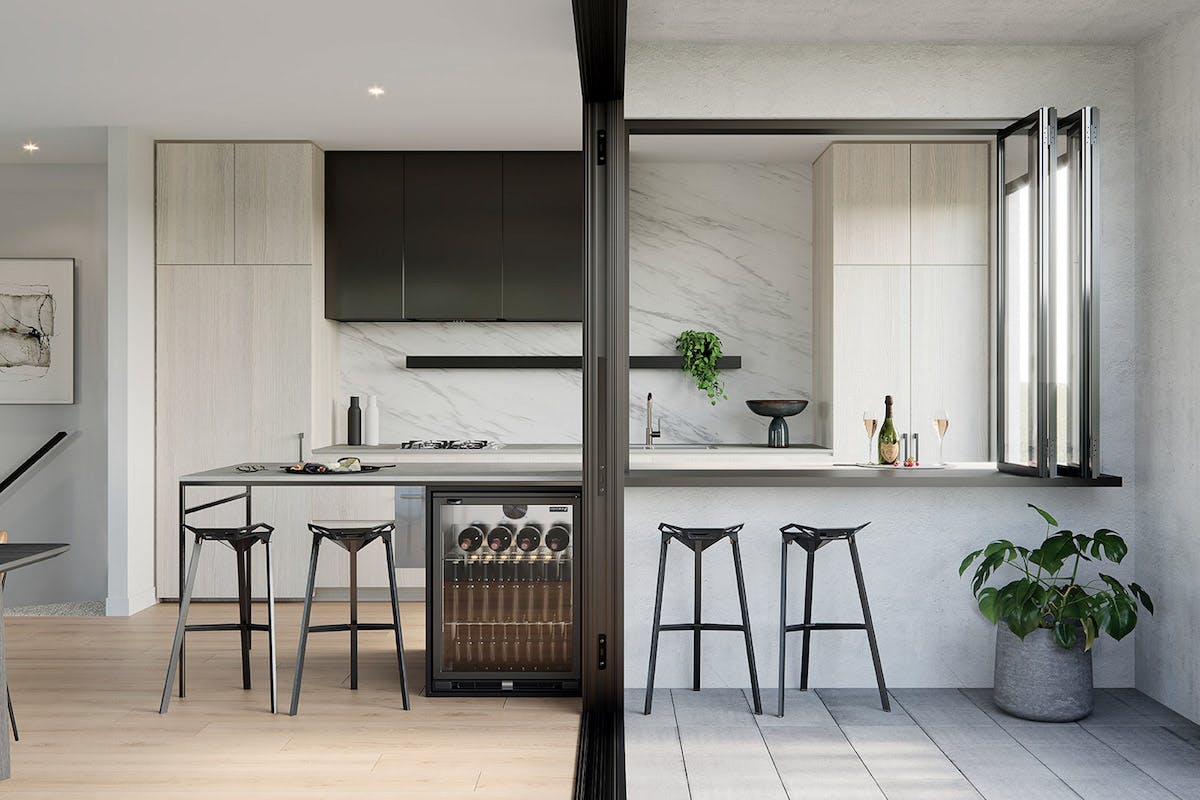 Entertainer's Delight
Mr Koay said when designing homes, it was important to consider the value our culture placed on entertaining, food and relaxation, both indoors and out. "So, integrating the home with the surrounding landscape is paramount," he said.
The kitchen played a key role in creating a house and land connection. Mr Koay said to ensure a home had that vital sense of flow, it needed to interact with both interior and exterior living and dining spaces.
"We achieve this by offering bi-folding doors to encourage indoor-outdoor integration, along with (things like) outdoor kitchens and rooftop terraces," he said.
He added design elements that flowed from indoors to out also contributed to flow. At Glenvill's YarraBend development, for example, a townhouse has a kitchen island bench that extends into the alfresco area outside, "blurring the lines between inside and out".

Taking Shelter
Of course, when talking about enjoying outdoor spaces, Melbournians need to take into account the changeable weather.
"The reality of Melbourne's weather is that it's unpredictable for many months of the year, so it's important these (alfresco) spaces are usable year round," Mr Koay said. "This means incorporating hard landscaping elements such as undercover patios and roofed terraces for protection from the elements."
Gyprock CSR marketing manager Therese Tarlington said continuing the paint palette or cabinetry from indoors to out would help connect the interior with the exterior.
"A way to create a seamless flow is incorporating furniture into the plasterboard work," she said. "A bench seat built seamlessly into the wall (and carried from outdoors to inside) is gorgeous when covered in bright cushions." Naturally, large windows are an important feature that will also link indoors with out.
Ms Nethery said full-height glazing in Fortis developments was a must because it "further enhances the integral connection between the outdoor terraces, landscaping and the inside".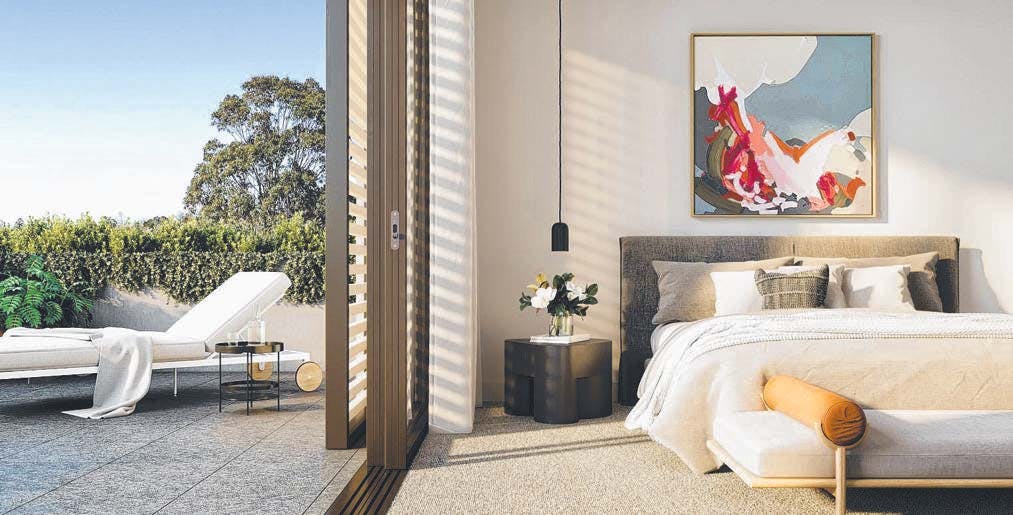 Fortis Development Group's East Gove development (above & below), Images: artist's impressions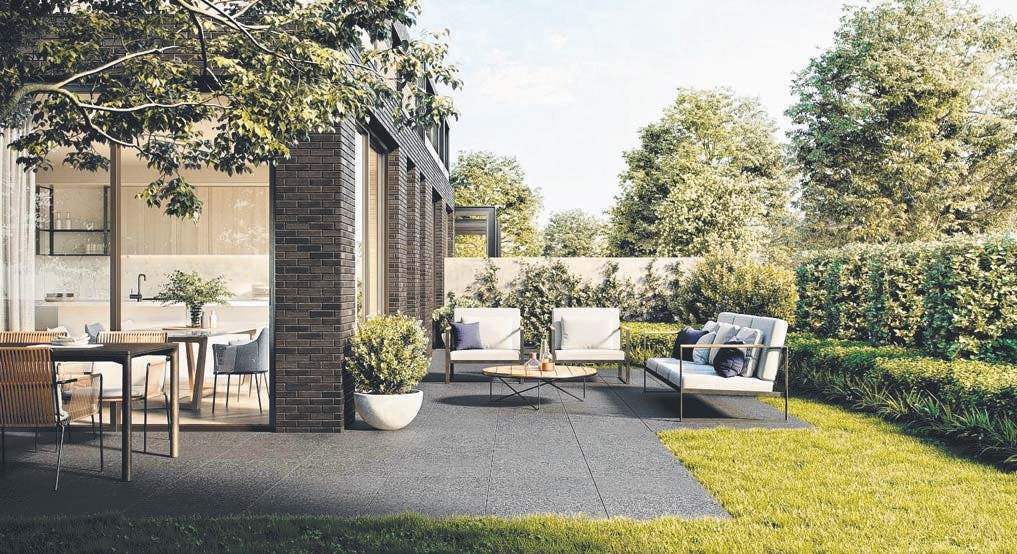 Plant Life
Perhaps, the most crucial of all the features that will connect your home to the outdoors is the vegetation. Nothing makes a home look part of the natural environment quite like, well, the natural environment.
However, as Ms Nethery pointed out, planting could be expensive, so opt for species that grow quickly to achieve an established feel right away.
"You'll also want to achieve the perfect harmony between the architecture and landscaping — you don't want the landscaping to totally steal the show," she said. "However, it should act to direct the eye and soften the building's presence."
In the outdoor terraces at Fortis development Ode, in Toorak, for example, the boundaries are lined with star jasmine and teddy bear magnolias.
Mr Koay said Glenvill's developments all used reasonably mature trees or fast-growing plants such as bamboo to create a natural environment at both the front and back areas of the home. "Let's not forget the importance of indoor planting, too," he said. "It plays such an important role in bringing a sense of greenery into the home, especially in winter when the climate is cooler and you are spending less time outdoors."
glenvill.com.au, fortis.com.au, gyprock.com.au